Cylindrical
Floating reamer holder Cylindrical Type ESX 20 (ER 20)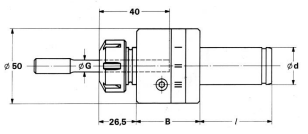 Show Filters
Floating reamer holder Cylindrical for CNC
Floating reamer holder Cylindrical for CNC provides ease of mounting the rails and guarantees the rigidity of the structure during operation of the equipment.
Features of floating cylindrical reamer holder for CNC
To install guides in CNC machines and various automated systems, a floating reamer holder is used. Components are available for mounting perpendicular and parallel to the reference plane. Accordingly, the holders have a flange connection or a support with mounting holes for screws of a certain diameter.
Cylindrical holders for CNC are made of light alloy, among the advantages of components:
high strength;
simple installation;
resistance to corrosion;
quick and easy shaft locking system.
You can buy a CNC chuck of any size, the inner diameter varies from 3 to 60 mm.
Choice of holders for CNC
The main selection criterion is the inner diameter of the CNC holder. The most popular models are designed for guides with a diameter of 10-12 mm. The second most important criterion is the feature of the installation. The holders are intended for installation perpendicular to the plane of the support, they are installed parallel to the plane of the support. Rigid fixation allows you to get rid of deflections, provide higher positioning accuracy of the moved node.