Cono Morse
Cono Morse – Portaalesatore flottante Tipo Flex 1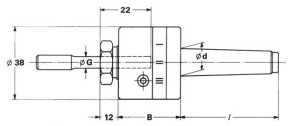 Show Filters
Visualizzazione di 2 risultati
Visualizzazione di 2 risultati
Morse cone Flex 1
The mandrel for end mills is designed to secure these elements in machines with and without a transverse keyway. Combination mandrels are used for mounting end mills and shell mills with a keyway.
Structurally, the equipment resembles a product with a Morse taper shank or ISO according to DIN2080 (GOST 25827-93) and a cylindrical working part that corresponds to the bore diameter of the cutter (in millimeters or pounds) or other working tool. The part has a groove that provides reliable fastening of the shell cutter.
A mandrel for a face mill is produced in accordance with GOST. Most often, it is used on CNC machines or on multi-operation machining centers.
You can buy holders for end mills on the Angst Tools website. We guarantee the high quality of the presented equipment, professional approach to the production of spare parts and
affordable prices for all items.